Pakistan projected to be 6th largest economy by 2075: Goldman Sachs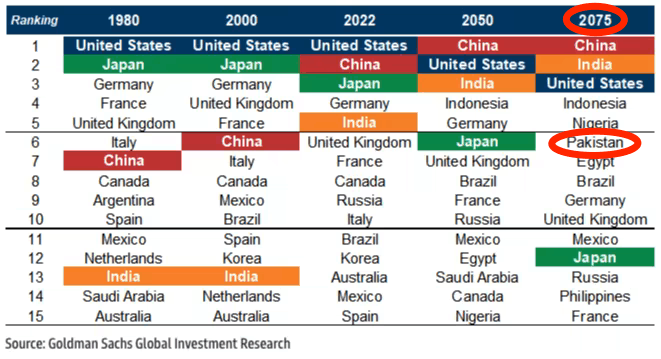 Breaking: Pakistan is projected to be the sixth largest economy in the world by 2075, a Goldman Sachs paper covering 104 countries has said.
Titled 'The Path to 2075' by economists Kevin Daly and Tadas Gedminas, the paper projected that Pakistan's population growth could place it among the largest economies, provided it is able to deal with risks of 'environmental catastrophe' and 'populist nationalism.'
According to Goldman Sachs, the largest five economies by 2075 will be:
China
India
USA
Indonesia
Nigeria
According to Bloomberg, Goldman Sachs Group economists have taken a stab at predicting the path of the world economy through 2075.
Two decades since they famously outlined long-term growth projections for the so-called BRIC economies, the economists now led by Jan Hatzius expanded their projections to encompass 104 countries over the next half-century.
The results:
Global growth will average just under 3% a year over the next decade, down from 3.6% in the decade before the financial crisis, and will be on a gradually declining path afterwards, reflecting a slowing of labor force growth.
Emerging markets will continue to converge with industrial nations as China, the US, India, Indonesia and Germany top the league table of largest economies when measured in dollars. Nigeria, Pakistan and Egypt could also be among the biggest.
With data, the future is different | Wali Zahid | TEDxNUSTKarachi
Subscribe to our YouTube channel: Wali Zahid