Japan PM lays foundation stone for Indian bullet train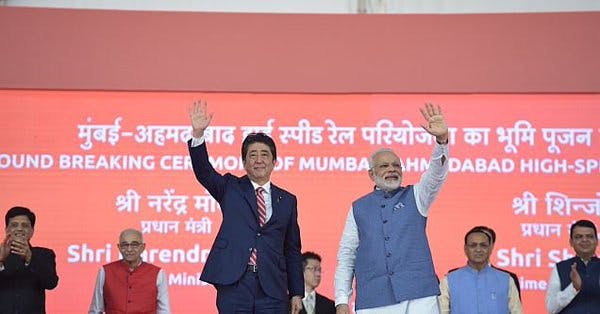 In a landmark moment, Indian Prime Minister Narendra Modi and his Japanese counterpart Shinzo Abe jointly laid the foundation stone for the proposed Ahmedabad-Mumbai High Speed Rail Network, commonly known as the bullet train, in Ahmedabad, Gujrat.
Pakistan was the first South Asian country to build a motorway between Islamabad and Lahore. In the race for high-speed or bullet train, it lost to rival India.
Our earlier report here.
In India, the railways is such a big deal that there is a separate annual budget presented for railways and another for the country.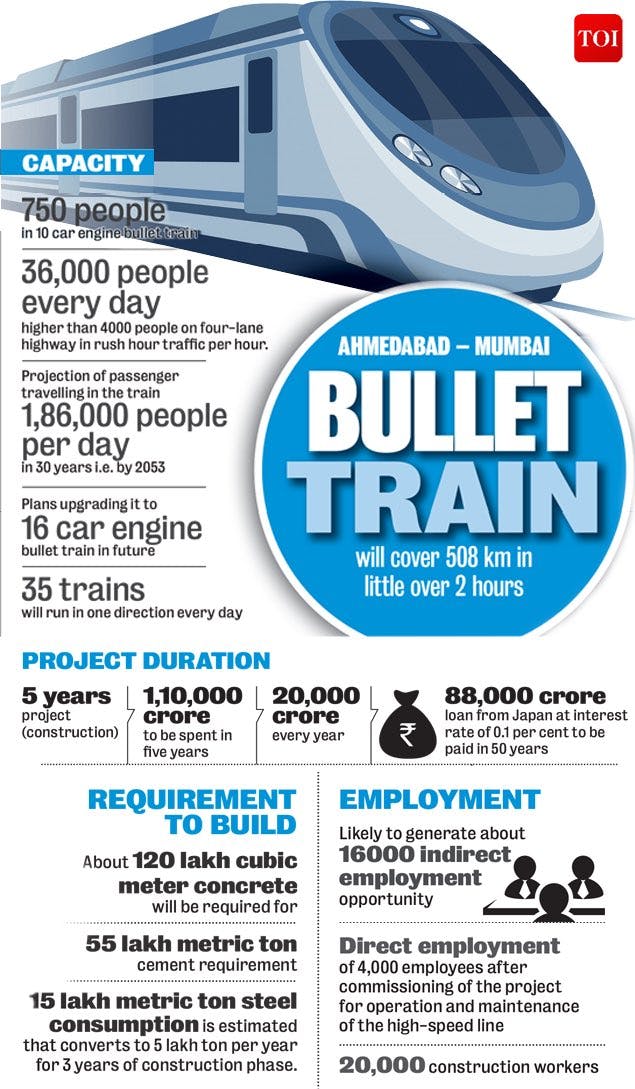 The bullet train, which has a capacity to accommodate 750 people, is expected to reduce travel time between the two cities from eight to two hours.
Around Indian Rs 1.1 trillion ($17 billion) will be spent on the project.
The Japanese government has agreed to fund most of the $17 billion needed for the 508km bullet train line that will become part of Asia's oldest railway network.
The Japanese financing is 81 percent of the cost, with a $13.8 billion soft yen-loan carrying an interest rate of 0.1 percent.
India is the second Japanese customer. Japan had previously given its super-fast train technology only to Taiwan, according to Bloomberg.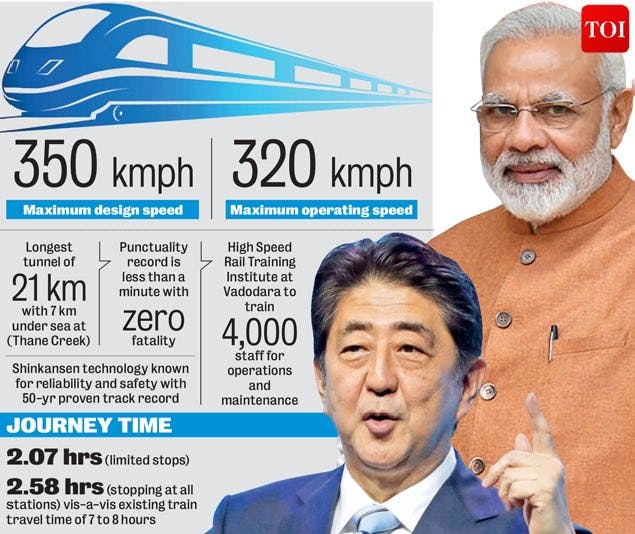 Highlights of the project
The official target for completion is 2023. India says it will attempt to have it running a year earlier
Total estimated cost is 1.1 trillion Indian rupees
While the train is designed to run at 350 kmph, it will operate at a maximum speed of 320 kmph, cutting down travel time between the two cities to about two hours from eight hours
Most of the corridor will be elevated, but will include a 21km tunnel with 7km under the Arabian Sea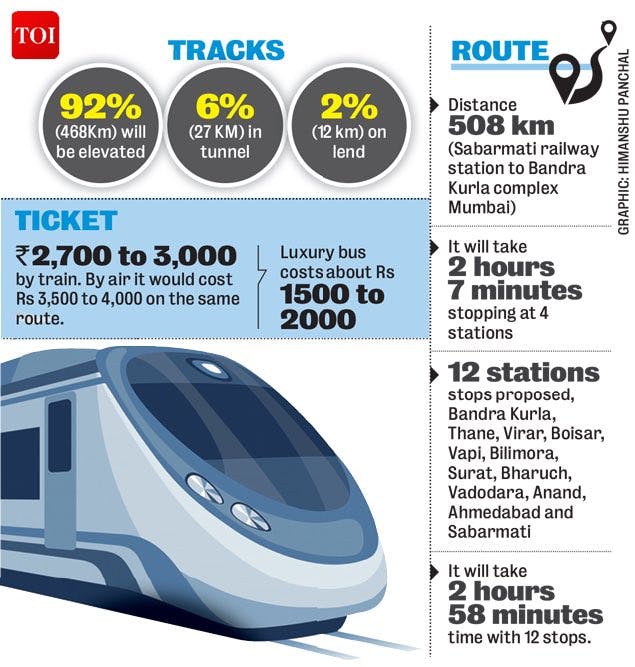 The target for its completion is December 2023, though officials say there are indications that the government may seek an earlier deadline of 2022.
The train will stop at each of the 12 railway stations on the route, but only for 165 seconds. A 21km tunnel will be dug between Boisar and BKC in Mumbai, of which 7km will be under water.
The entire line will be at an elevation of around 20m which will reduce land acquisition.
After the laying of the foundation stone, an investment summit will also be held between the Indian side and a Japanese delegation comprising representatives from Japan External Trade Organisation (JETRO) and Japan International Cooperation Agency (JICA).
The project will create 20,000 construction jobs, apart from 4,000 direct and 20,000 indirect jobs for operations.
Reports courtesy: Hindustan Times. Infographics: Times of India