Top 50 exporters of Pakistan in 2022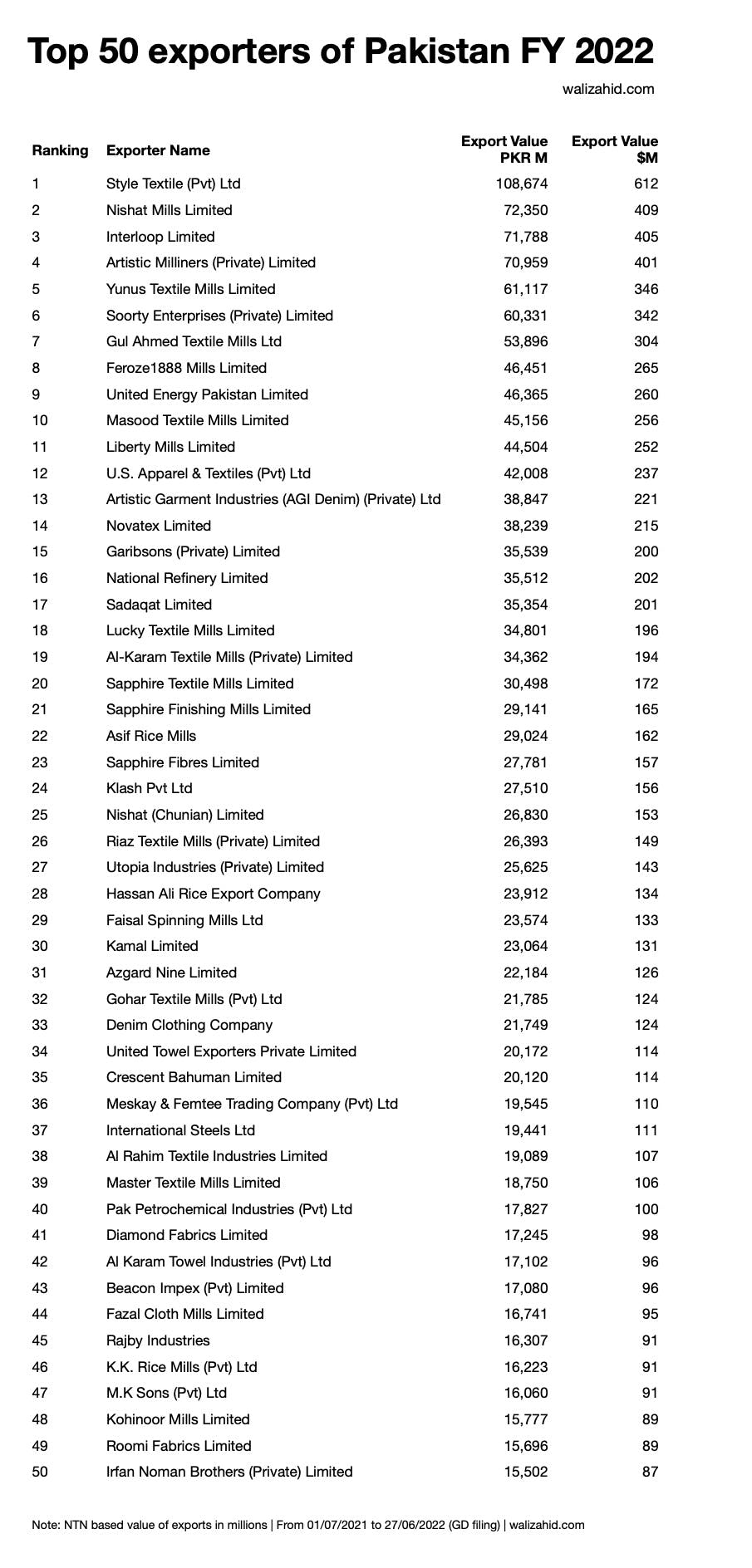 Who are the biggest 100 exporters from Pakistan in FY 2022?
Check this exporters list from Pakistan and their exports worth in million Pakistani rupees and in million US dollars in FY 20202 in a downloadable format.
These are the top names that produce and export items - like textiles and rice - Pakistan is known for, and bring critical foreign exchange Pakistan needs to meet its fuel and other import needs.
Style Textile topped the ranking consecutively for the third year, the only company with a three-digit billion-figure. Nishat Mills Limited rose to second position at 72B. With 71B, Interloop Limited grabbed number 3 position. Artistic Milliners, Yunus Textile Mills and Soorty Enterprises grabbed number 4, 5 and 6 positions respectively, beating Gul Ahmed Textile Mills to number 7 position.
The ranking is based on NTN GD filing (Goods Declaration) In Weboc from 1 July 2021 to 27 June 2022.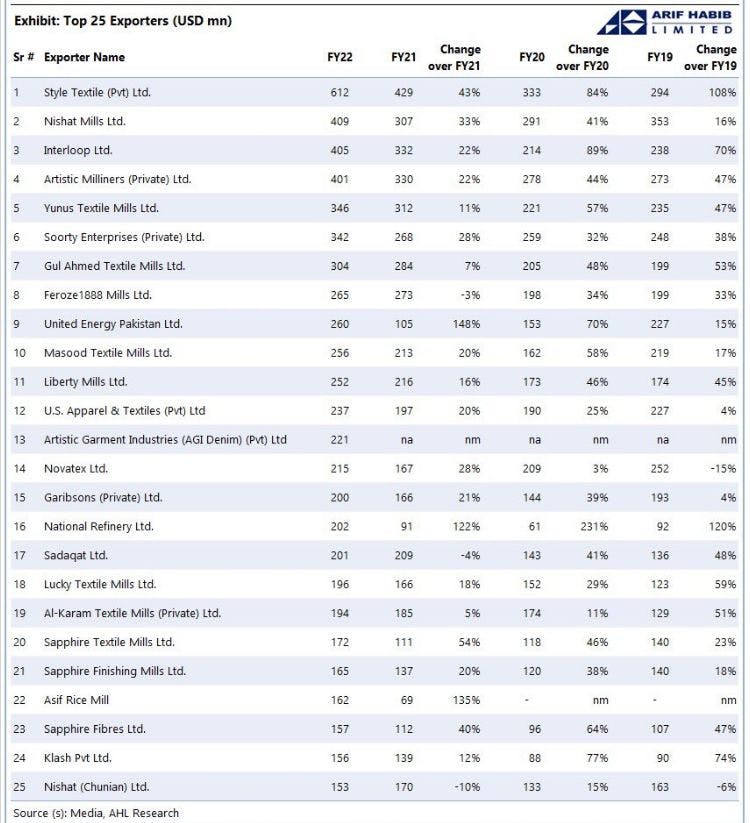 Top 100 exporters from Pakistan in FY 2022
Style Textile (Private) Ltd
Nishat Mills Limited
Interloop Limited
Artistic Milliners (Private) Limited
Yunus Textile Mills Limited
Soorty Enterprises (Private) Limited
Gul Ahmed Textile Mills Limited
Feroze1888 Mills Limited
United Energy Pakistan Limited
Masood Textile Mills Limited
Liberty Mills Limited
U S Apparel & Textiles (Private) Limited
Artistic Garment Industries (Private) Limited
Novatex Limited
Garibsons (Private) Limited
National Refinery Limited
Sadaqat Limited
Lucky Textile Mills Limited
Al-Karam Textile Mills (Private) Limited
Sapphire Textile Mills Limited
Sapphire Finishing Mills Limited
Asif Rice Mills
Sapphire Fibres Limited
Klash (Private) Limited
Nishat (Chunian) Limited
Riaz Textile Mills (Private) Limited
Utopia Industries (Private) Limited
Hassan Ali Rice Export Company
Faisal Spinning Mills Limited
Kamal Limited
Azgard Nine Limited
Gohar Textile Mills (Private) Limited
Denim Clothing Company
United Towel Exporters Private Limited
Crescent Bahuman Limited
Meskay & Femtee Trading Company (Private) Limited
International Steels Limited
Al Rahim Textile Industries Limited
Master Textile Mills Limited
Pak Petro-Chemical Industries (Private) Limited
Diamond Fabrics Limited
Al-Karam Towel Industries (Pvt) Limited
Beacon Impex (Pvt) Limited
Fazal Cloth Mills Limited
Rajby Industries
K K Rice Mills (Private) Limited
M K Sons (Pvt) Limited
Kohinoor Mills Limited
Roomi Fabrics Limited
Irfan Noman Brothers (Private) Limited
Arshad Corporation (Private) Limited
Masood Fabrics Limited
Meskay & Femtee (Private) Limited
Proline (Private) Limited
Ismail Industries Limited
Indus Dyeing & Manufacturing Company Limited
Silver Lake Foods Products Limited
Kohinoor Textile Mills Limited
Combined Fabrics (Private) Limited
Shafi Glucochem (Pvt) Limited
Artistic Denim Mills Limited
Lucky Cement Limited
International Textile Limited
Sarena Textile Industries (Private)Limited
Mahmood Textile Mills Limited
Mughal Iron & Steel Industries Limited
Mustaqim Dyeing Printing Industries (Private) Limited
Eastern Garments (Private) Limited
J K Spinning Mills Limited
Akhtar Textile Industries (Private)Limited
Artistic Apparels (Private) Limited
Stylers International (Private) Limited
Cotton Web Limited
J B Industries
Kay & Emms (Pvt) Ltd
Afroze Textiles Industries (Private) Limited
Crown Textile
Gadoon Textile Mills Ltd
Kamal Textiles Limited
Indus Home Limited
Getz Pharma (Private) Limited
Madina Sugar Mills (Private) Limited
Cannon Metal Works
Shahmurad Sugar Mills Ltd
Reliance Weaving Mills Limited
Brother Metal Traders
Union Fabrics (Private) Limited
International Industries Limited
Al-Hamza Trading Company
Kassim Textiles (Pvt) Limited
Ali Murtaza Associates (Pvt) Ltd
Kam International
The Crescent Textile Mills Limited
Naveena Exports Limited
Matco Foods Limited
Jhulay Lal Parboiled Rice Mill
Pelikan Knitwear
Artistic Fabric Mills (Private) Limited
Jasons Commodities
Challenge Apparels Limited