Pakistan tops gender inequality ranking in Asia Pacific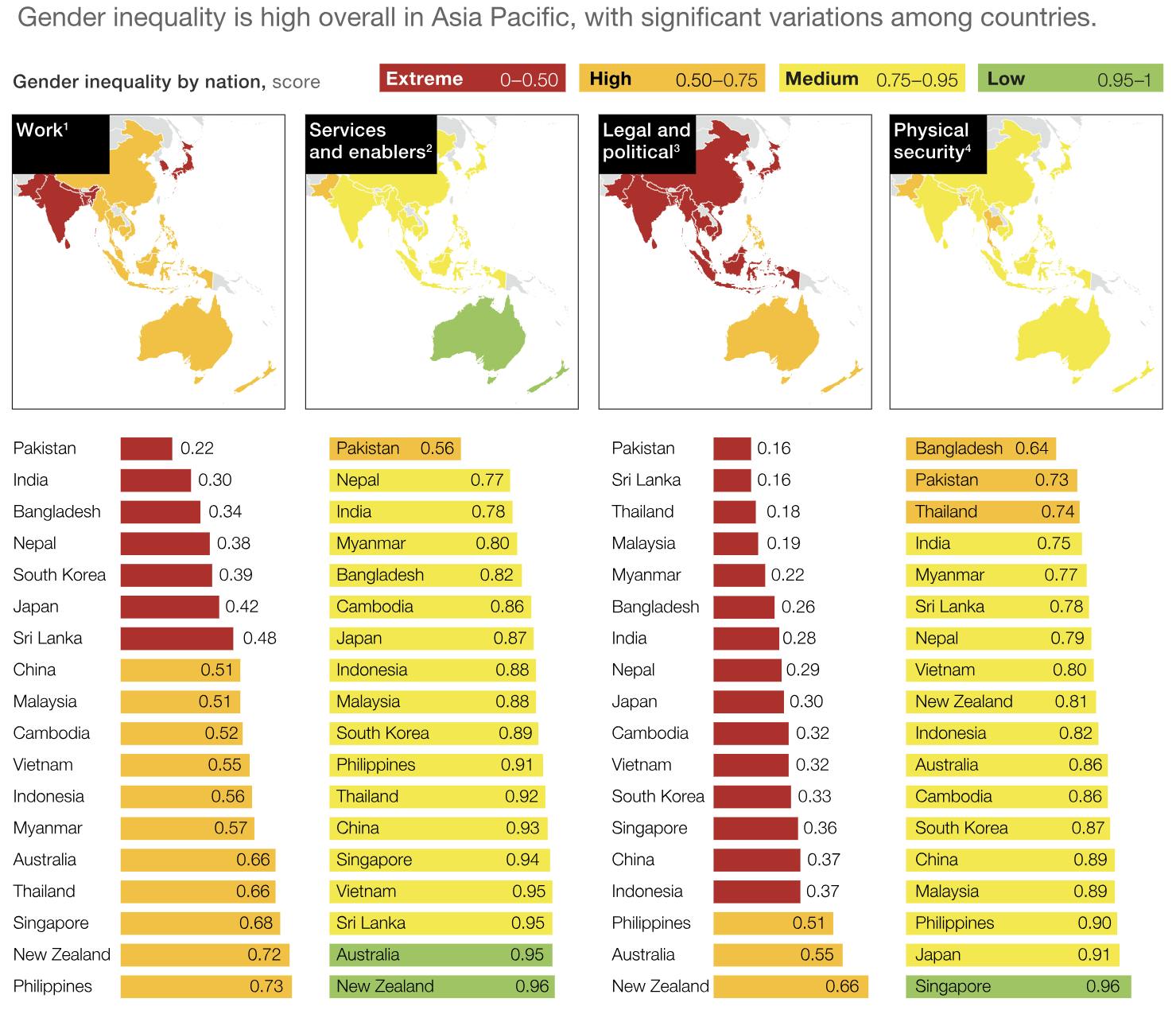 In a 2018 McKinsey report, Pakistan tops gender inequality ranking in Asia Pacific in 2018. Image above.
In work inequality (labour force participation, professional and technical jobs, perceived pay gap, ) sub ranking, it falls into extremeinequality category. The same is the case with legal and political inequality ranking. In services and enablers (education, financial inclusion, maternal health), it falls into high inequality category, as is the case with physical security (violence against women).
In three out of four sub-rankings, Pakistan tops gender inequality in Asia Pacific, and in the fourth (physical security), it ranks only next to Bangladesh.
In the report titled 'The power of parity: Advancing women's equality in Asia Pacific', New Zealand, Australia, Singapore and Philippines are ranked as role model countries in Asia Pacific.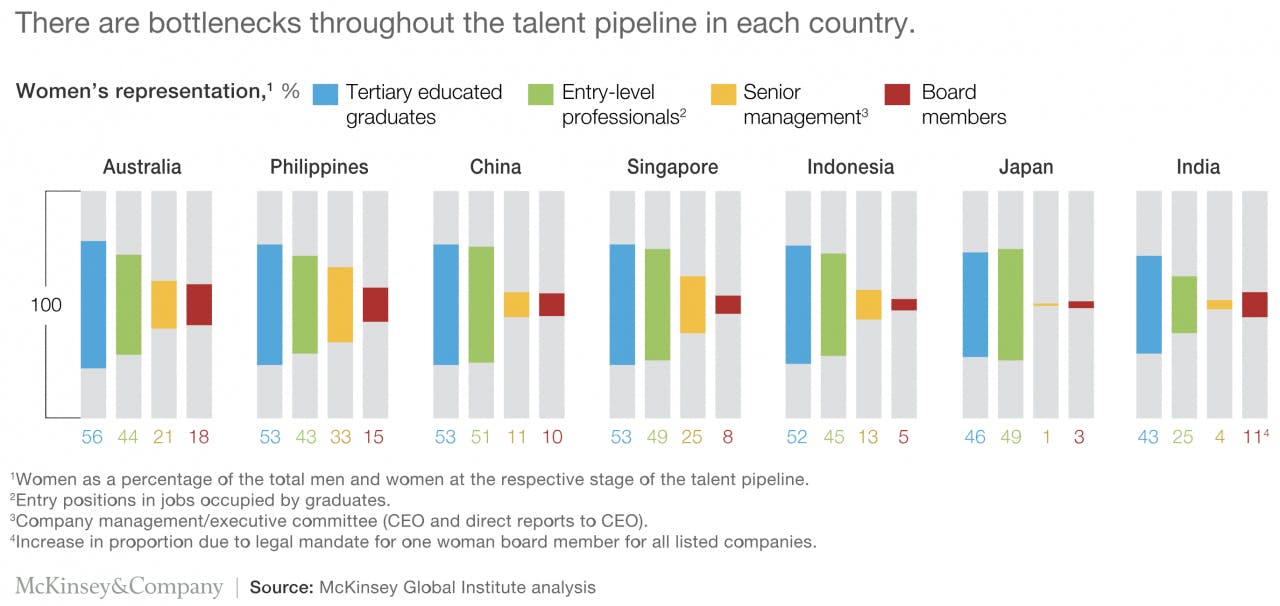 In all Asia Pacific countries, women have low representation in leadership positions. Image above.
The research examines Asia Pacific as a whole with a particular focus on seven countries: Australia, China, India, Indonesia, Japan, the Philippines, and Singapore.
On gender equality in work, the Philippines stands out for its progress, followed by New Zealand and Singapore.
The six countries furthest from gender parity in work are Bangladesh, India, Japan, Nepal, Pakistan, and South Korea.
China does well on female labor-force participation but can improve its share of women in leadership – as can most countries in Asia.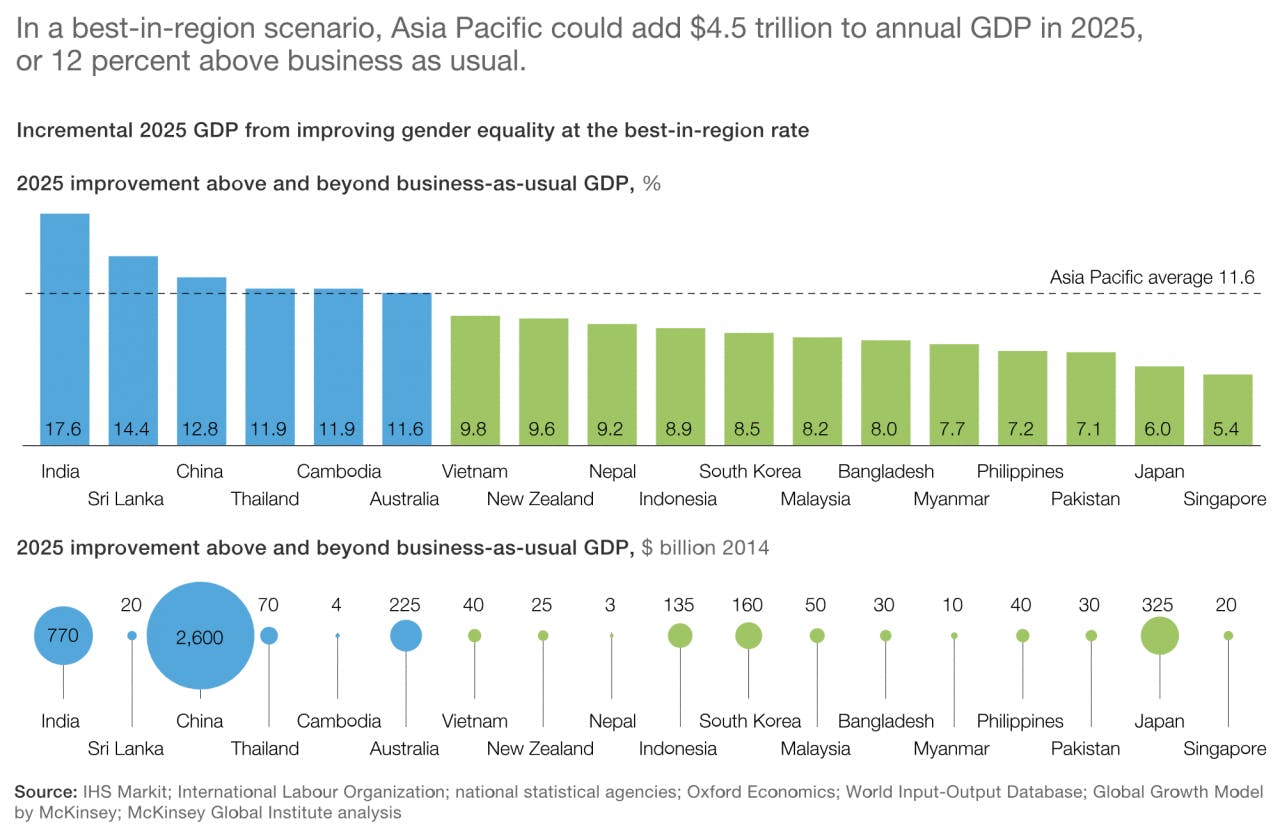 The critical issues of gender equality, dealing with glass ceiling and women in leadership are part of modules that Skill City, a new-generation learning and coaching firm, run on the request of best-in-class Pakistani organisations that seek to enhance their productivity and effectiveness through active participation and leadership role by their female executives.
For nearly two decades, Wali Zahid, ceo of Skill City, has been running Women in Leadership (WIL) and Young Women in Leadership (Y-WIL) workshops in Pakistan and Afghanistan for organisations like British Council, The Women's Islamic Initiative in Spirituality and Equality (WISE) USA, Lahore College for Women University (LCWU), Kinnaird College University, Lahore, Institute for Rural Management (IRM)/NRSP/HRDN, IbnSina and AKDN, some of these funded by UK's DfID.
Wali also conceived, developed and delivered a nine-month Management Foundation Program with Gender Dimension for Pakistan's Ministry of Women Development and ran it successfully several times during 2006-2008 on behalf of GIZ, the German foundation.
Wali's most recent employer has been British Council where he worked as Country Director of its Management Development Services in Pakistan during 2001-2008.
Wali also has been on the Board of Governors of Pakistan Society for Training and Development (PSTD) which has been running annual WIBCON (Women in Business Conference) for over a decade.