List of top 100 exporters of Pakistan in 2019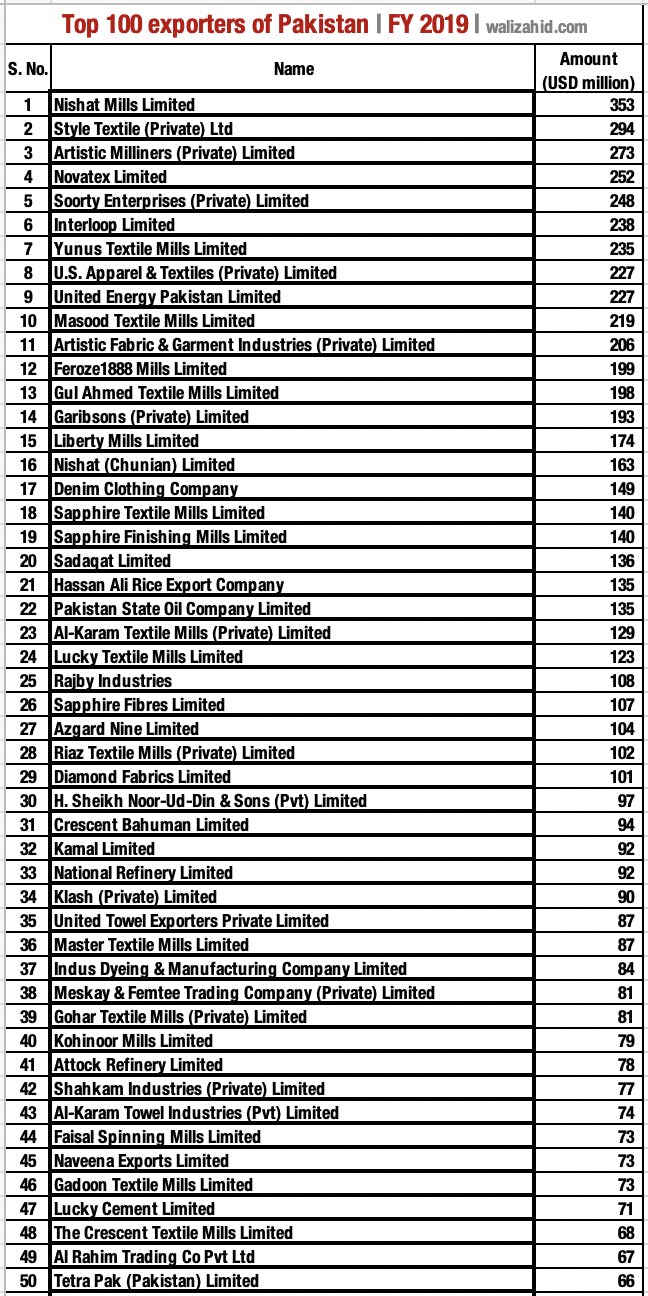 Who are the biggest exporters from Pakistan in 2019?
Check this exporters list from Pakistan and their exports worth in USD in a downloadable format.
Nishat Mills Limited
Style Textile (Private) Ltd
Artistic Milliners (Private) Limited
Novatex Limited
Soorty Enterprises (Private) Limited
Interloop Limited
Yunus Textile Mills Limited
U.S. Apparel & Textiles (Private) Limited
United Energy Pakistan Limited
Masood Textile Mills Limited
Artistic Fabric & Garment Industries (Private) Limited
Feroze1888 Mills Limited
Gul Ahmed Textile Mills Limited
Garibsons (Private) Limited
Liberty Mills Limited
Nishat (Chunian) Limited
Denim Clothing Company
Sapphire Textile Mills Limited
Sapphire Finishing Mills Limited
Sadaqat Limited
Hassan Ali Rice Export Company
Pakistan State Oil Company Limited
Al-Karam Textile Mills (Private) Limited
Lucky Textile Mills Limited
Rajby Industries
Sapphire Fibres Limited
Azgard Nine Limited
Riaz Textile Mills (Private) Limited
Diamond Fabrics Limited
H. Sheikh Noor-Ud-Din & Sons (Pvt) Limited
Crescent Bahuman Limited
Kamal Limited
National Refinery Limited
Klash (Private) Limited
United Towel Exporters Private Limited
Master Textile Mills Limited
Indus Dyeing & Manufacturing Company Limited
Meskay & Femtee Trading Company (Private) Limited
Gohar Textile Mills (Private) Limited
Kohinoor Mills Limited
Attock Refinery Limited
Shahkam Industries (Private) Limited
Al-Karam Towel Industries (Pvt) Limited
Faisal Spinning Mills Limited
Naveena Exports Limited
Gadoon Textile Mills Limited
Lucky Cement Limited
The Crescent Textile Mills Limited
Al Rahim Trading Co Pvt Ltd
Tetra Pak (Pakistan) Limited
Arshad Corporation (Private) Limited
Hasan Corporation
K.K. Rice Mills (Private) Limited
Mcc Huaye Duddar Mining Company (Pvt) Limited
Meskay And Femtee (Private) Limited
Siddiqsons Limited
Attock Cement Pakistan Limited
Akhtar Textile Industiries (Private)Limited
Service Industries Ltd
Proline (Private) Limited
M. K. Sons (Pvt) Limited
Combined Fabrics (Private) Limited
International Textiles Limited
Tazij Meats & Food
Afroze Textiles Industries (Private) Limited
Al Rahim Textile Industries
Kassim Textiles (Private) Limited
Fazal Cloth Mills Limited
Hunza Sugar Mills (Private) Limited
Mustaqim Dyeing Printing Industries (Private) Limited
Ali Murtaza Associates (Private) Limited
Staple Foods (Private) Limited
Premier Industrial Chemical Manufacturing Company (Pvt) Ltd
Pakistan Refinery Limited
Kohinoor Textile Mills Limited
Indus Home Limited
Kangore Traders
Shahmurad Sugar Mills Limited
Getz Pharma (Private) Limitted
Artistic Denim Mills Limited
Sarena Industries And Embroidery Mills (Private) Limited
Shahzad Enterprieses
Roomi Fabrics Limited
Hussain Mills Limited
W S Metal Trading
Eastern Garments (Private) Limited
Mahmood Textile Mills Limited
Reliance Weaving Mills Limited
Asif Rice Mills
Kam International
J. K. Spinning Mills Limited
Bismillah Textiles Limited
A B Exports (Private) Limited
Masood Fabrics Limited
Madina Sugar Mills Limited
JDW Sugar Mills Limited
Kings Apperal Industries (Private) Limited
Cotton Web Limited
Matco Foods Limited
Irfan Noman Bernas (Private) Limited
Full exporters list here.