Institute of Media & Communications (IMC) Pakistan: A brief profile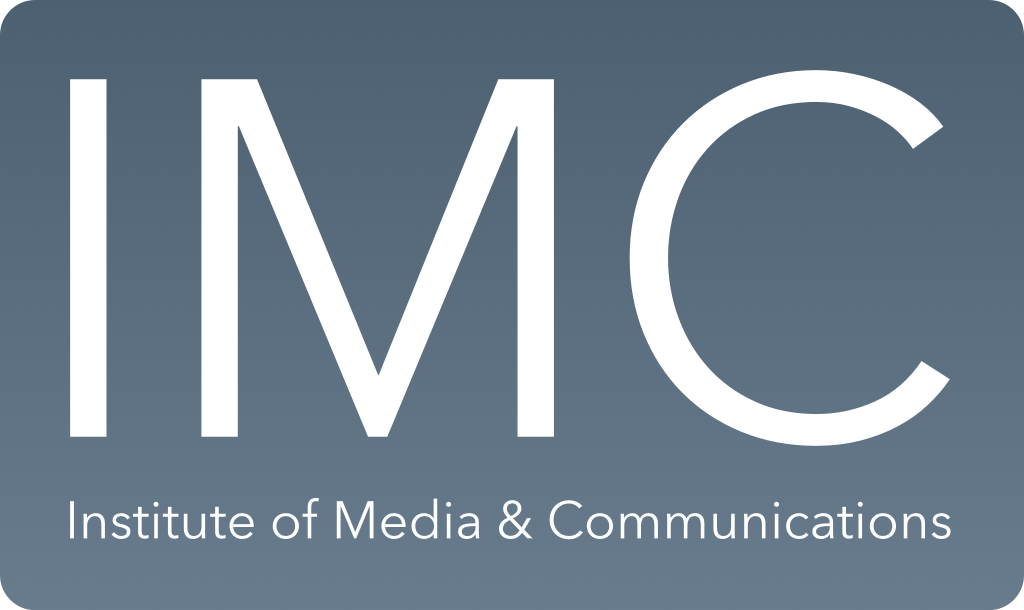 Institute of Media & Communications (IMC) is a Pakistani think-tank devoted to media issues that concern media in Pakistan and Asian region.
The IMC (then Institute of Mass Communication) was set up as a sole-proprietor firm in 1993 in Islamabad, with office in F-7 Jinnah Super Market. Wali Zahid was its founding Executive Director.
The IMC was featured in Dawn and The News, and had The Muslim as the strategic partner. Islamabad-based advertising agency, Orient McCann Erickson supported IMC.
Wali Zahid's recent media accomplishments
Received the 2016 Journalist of the Year Award by Agahi, an affiliate of World Economic Forum (WEF), Switzerland and supported by Australian High Commission in Islamabad
Featured by BBC Urdu Service in 'Who to follow on Social Media'
Independence-Day lead articles in The News, Pakistan's largest-circulation English-language daily on Pakistan of future & Pakistan in 2050
2017 economic and political forecasts published by Express Tribune, the Pakistan affiliate paper of The New York Times
Op-Ed pieces in The News and The Nation on Pakistan, SCO, BRI, CPEC and China matters
Appeared on Dunya News, 92 News HD, Waqt News, BOL TV, PTV News and Business Plus channels on Pakistan, CPEC and BRI
China media: During 2017-21, was interviewed or wrote for People's Daily, China, Global Times, China Radio International (CRI), CRI English, CRI Online, CRI Urdu, China Pictorial, China-India Dialogue, Beijing
Subscribe to our YouTube channel: Wali Zahid
During the 1993-1998, IMC offered short-term certificate courses (8 to 14 weeks duration) in Islamabad in these areas:
Certificate in Journalism
Certificate in Advertising
Certificate in Public Relations
Certificate in Cartooning
Certificate in TV Journalism
The students and faculty published a six-monthly journal called The Communicator, which carried student writings.
Notable IMC alumni
Many of the alumni are now in senior positions in various media outlets. Some of them are:
Saman Ansari (then PTV hostess and FM RJ; now appears in TV plays)
Naveed Ahmad (Jefferson Fellow, The News/Geo, now international correspondent)
Ahmed Mukhtar (Bureau Chief, Abb Takk News)
Dr Leila Mona Ganiem, Indonesian scholar
Fariha Tahir Shah (formerly with Nokia, NCR, Microsoft, CAA)
Javed Malik (Brandeis alum, formerly with DfID)
Ahmad Bilal Khan (advertising guru)
Rao Javaid (formerly with Oxfam)
Kiran Arif Khan
Notable IMC faculty
A high-powered faculty was arranged to teach these courses. They included big-names like:
Syed Talat Hussain (The News then, formerly Geo TV)
Ziauddin Ahmad (Editor Dawn, Express Tribune, then)
Anjum Niaz (Late, Dawn)
Shujaat Ali (The News cartoonist then; formerly with Al-Jazeera TV)
Gulrez Mojiz (Interflow, film maker)
Muhammad Malick (Interflow & Dawn then, formerly MD PTV, TV anchor)
Tasneem Ahmer (then university faculty at QAU)
Absar Alam (The Nation then, former Pemra Chairman)
Navid Zafar (Late, Director Current Affairs PTV then)
Salman Wasay (then Paktel, later Ufone, now Chaaye Khana)
Ali Kamal Khan (Late, professor, advertising professional)
Mahmood Hashmi (owner, Orient McCann Erickson)
Allauddin Masood (DG Public Relations Pakistan Senate then)
Prof Zakariyya Sajid (President Press Institute of Pakistan then, formerly Chairman, Mass Communication Department at Karachi University)
Wali Zahid (Executive Director IMC then; President IMC now)
IMC participation in notable events | 1993-2003 
Along with public-run courses, IMC also organised these high-profile customised invitation-only events:
Led on training of civil-service officers of Information Group and GHQ at Information Service Academy | 1994-95
Assisted Press Institute of Pakistan's Legislative Reporting workshop in Islamabad and Lahore, with chief guest Syed Yusuf Raza Gillani, National Assembly Speaker then, Pakistan Prime Minister later | 1994
Participated in Pakistan Foreign Office course on Media Diplomacy | 1994
In-house training for the editorial staff of The Muslim, Islamabad with Robert S Mellis, ICFJ Knight Fellow, and an editor with The Miami Herald, Florida, USA | 1995
Participated in Inter-Services Public Relations (ISPR) course in Defence Reporting and field visits to the Line of Control and Siachen Glacier | 1997
Represented IMC in International Institute for Journalism's two-month Training of Trainers workshop in Berlin, Germany (1996)
Represented IMC in Pearson Peacekeeping Centre's two-week workshop in Nova Scotia, Canada | 1997
Represented IMC in month-long Austrian Study Centre for Peace and Conflict Resolution summer school in Schlaining, Austria | 1998
Represented IMC in week-long International Security Seminar at GIIS, Geneva, Switzerland | 1998
Worked with the Knight Fellow of International Centre for Foreign Journalists (ICFJ) Washington DC | 1995
Worked with the Asian Media Information and Communication Centre (AMIC) Singapore | 1995
Visited the International Centre for Foreign Journalists Washington DC | 2001
Arranged talks and presentations by Deans of British University media programmes in Pakistan, like UWE Bristol | 1995
Made a presentation at the University of California at Berkeley's annual South Asia Conference on government and press relations | 2001
Arranged a week-long Train the Trainer for Journalists workshop for PPI and Pakistan Press Foundation's editors in Karachi | 2001
Attended a South Asian Editors Conference on Media Self Regulation in Colombo, Sri Lanka, at the invitation of Commonwealth Press Union (CPU) London | 2002
Contributed to Commonwealth Press Union (CPU) London's book on Imperfect Freedom: The case for self-regulation in the Commonwealth press | 2003
Recent projects | 2006-2020
Arranged a two-day Media Management workshop for GrameenPhone Bangladesh's general managers in Dhaka | 2006
Arranged a 10-day Media outreach workshop for Pakistani and Bangladeshi TV anchors and media people and civil society organisations with Search for Common Ground USA (SCG) in Nepal | 2008
Arranged a Train the Trainer workshop in Investigative Journalism for Afghan Master Trainers and journalists in Kabul | 2009
Produced A Guide in Investigative Journalism for Afghan journalists in Kabul | 2008-09
Produced a Trainers' Manual in Investigative Journalism for Afghan Master Trainers and journalists in Kabul | 2008-09
Created fact sheets on CPEC and BRI and confronted false propaganda on social media | 2015-onwards
Made a multimedia presentation on Leveraging social media for the success of CPEC-BRI at Chinese Embassy Islamabad & China Study Centre's International CPEC/BRI conference at Islamabad Marriott | 2016
Project Ignorance: How fake news are spread in Pakistan using photoshops and Whatsapp | 2016-onwards
Conducted an online survey on Who are top 10 Pakistani TV news anchors? | 2016
Represented Pakistan in Think-Tanks Exchanges meeting at global Belt and Road Forum for International Cooperation in Beijing | 14-15 May 2017
Was interviewed by China's Sina Global Media which owns Weibo, China's version of Twitter, on China-India Doklam border standoff. Nine Questions | August 2017
Analysis: Pakistan after BRICS declaration | September 2017
Was invited by China Radio International (CRI) to visit China's achievements in technology and culture | May 2018
Produced an analysis on Shanghai Cooperation Organisation What is in for Pakistan and India in SCO Qingdao Summit? for China-India Dialogue, Beijing | June 2018
Analysis and case study for China Pictorial: How 40-year reform has paid off China in economic development | December 2018
Analysis and forecast on US-China trade war: If beating US economy by trillion $ every year is an indicator, China to emerge victor from trade war with US | May 2019
Covid-19 forecast for China Pictorial: Trust China to overcome Coronavirus epidemic | March 2020
Covid-19 analysis for China Daily: How China contained coronavirus breakout | April 2020
Book Review for China Today and Beijing Review: President Xi Jinping's,The Governance of China, Volume III | January 2021
Future projects media and social media | 2021-25
Planned ranking of top 10 male and female news and current affairs anchors on Pakistan TV
Planned ranking of top 10 columnists in Pakistan print media in English and Urdu language newspapers
Planned ranking of top 10 Twitter and Facebook social influencers
Chairman IMC: Prof Zakariyya Sajid
President IMC: Wali Zahid
Web: walizahid.com/
Wali Zahid is an award-winning journalist, futurist, disruptor, blogger, social media strategist, reformer, LinkedIn writer and author of iBook, Great Training in 10 Steps.
He runs a #Pakistan2050 hashtag on Twitter and appears on national TV on issues of significance to Pakistan. His claim to fame is this recent piece: Back to the future: Pakistan in 2050. In 2016, he won Journalist of the Year Award by Agahi. 
On walizahid.com, he's writing a series called How We Messed Up Pakistan.
As CEO of SkillCity, he coaches several Fortune-500 CEOs on leadership.
He's founder of a global movement for humanizing medical education and practice. Since 1993, he is founder President of Institute of Media & Communications where top journalists taught print and TV media courses.
He can be reached on Twitter @walizahid and on Facebook where he has over 150,000 fans.